Monthly Socials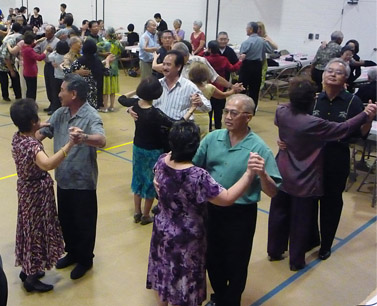 Here at YataDance, we try to provide the best quality dance instruction as well as practice dances where you will meet other dancers with the same goals as yourselves.
On the second Saturdays of each month, we sponsor casual dinner dances along with a little entertainment, mixer dances and door prizes. Since Ballroom dancers tend to move a lot more than nightclub dancers, we try to find venues with a lot of floor space. Our dance floors are between 8,000 and 9,000 square feet in size.
Free Dance Class
Dinner is served
$25.00 per person
As we serve a full dinner, reservations are required.
2018 Social Calendar
March 10 Benefit Dance For Gardena Buddhist Church at The Gardena Church Utility Hall – No Dinner, Refreshments Served During Intermission – $12.00 6:30PM – !0:30PM
April 14
May 12
June 9
August 11
September 8
October 13
November 10 Le Grande Ball at SEJCC
December 8 Benefit Dance For Nishi Hongwanji
Location
Nishi Temple Gymnasium
815 East 1st Street, Los Angeles CA 90012
Click here for directions.